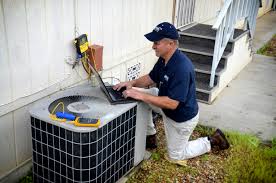 Your air conditioner works hard to keep your home comfortable all year round. With regular repairs and tune-ups, you can extend the lifespan of your system and keep it running at peak efficiency.
What's an AC Tune-Up?
An air conditioner tune-up entails:
Checking the functioning of critical system components
Measuring refrigerant levels
Inspecting accessible parts of the system for wear or potential issues
Checking system airflow
Adjusting, lubricating and tightening components as necessary
Ensure that you employ the services of a reputable and reliable HVAC company in your locality. This will make sure you get quality services that will enhance the functioning of your air conditioner and make your spending a worthwhile investment. Get a company that can stand behind their work.
Why is Tune-Up Important
Regular maintenance and servicing of your air conditioning unit will help improve the performance of your system, prolongs system life as well as save you money on utility bills.
Reduced Utility Bills
Making sure that your air conditioning unit is in top shape will enable you save a considerable amount of money on energy costs. When your system is running at its peak efficiency, it consumes less energy and this will see you incur lesser utility costs.
Increased System Lifespan
Investing in an air conditioner is a costly affair and replacing it, is even more expensive. Maintaining your air conditioner on a regular basis will prolong its lifespan and will serve you for 10 to 15 years or even 20 years depending on the frequency of use and make.
Improved Performance of Your Air Conditioner
Air conditioning tune-ups will significantly improve the performance of your system. This is because the HVAC professionals will be able to identify the problem early and fix it on time before it aggravates to something bigger. This means the system will be able to cool your home appropriately ensuring you enjoy the comfort of your home fully.
Enhanced Indoor Air Quality
Protect your family from allergies and respiratory illnesses with high quality indoor environment. A poorly maintained and serviced air conditioning unit can release dirt, dust, debris and harmful bacteria into your indoor space. This makes the air you breathe unhealthy causing allergies, asthma and other respiratory problems. With tune-ups, you will be able to significantly improve the quality of your indoor air.
When do I need to Have My Air Conditioner Serviced?
As a homeowner in Miami and the surrounding areas, you should typically have tune-ups at least twice per year; one at the beginning of the heating season and the other at the commencement of the cooling season. This is crucial to ensure that your unit is working effectively and efficiently before the weather gets too hot or too cold. However, the tune-up can be done more than twice depending on the usage.
At Air Conditioner Repair Miami we offer comprehensive AC tune-ups at pocket-friendly rates. Contact us today at (305) 400 – 4227 and make your first step towards improved system efficiency and comfort in your home.